Areas
From Adventurelandians - Adventureland Iowa Encyclopedia (Unofficial)
Nothing great was ever achieved without enthusiasm. - Ralph Waldo Emerson
DISCLAIMER
Information on this site is unofficial. It is compiled by fans of Adventureland amusement park in Altoona, Iowa (near Des Moines). There may be inaccuracies and omissions. For official Adventureland information, visit the official website.
See Newest Pages or all Recent Changes. | Join my Facebook Group. | About this site. | Blog | Contact me.
This page was last updated on 08/24/2016. Total Pages: 298. Total Files: 317.
---
Home / Areas - Areas
---
Adventureland Park is divided up in to several areas. Some of them have a distinct theme and are clearly defined. For the rest, we are just estimating where we think they are and what they contain based on internet research and discussion.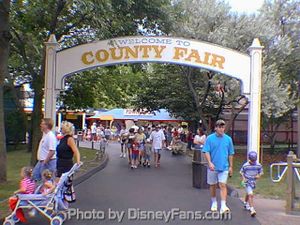 Currently, the only clearly marked areas are Dragon Island and Outlaw Gulch. Both of these have archway signs leading to them.
Until 1998 there was second Dragon Island archway at the bridge. Until 2015 (?), there was a double-sided archway between County Fair and Iowa Farm that marked those areas. Old park maps from the 1970s used to label most of these sections, but the modern maps do not. In some cases, we are using names from old maps that may or may not be the current official names of the sections.
Each section of the park has an Iowa connection: River City represents an Iowa town on the Mississippi, with the nearby Lady Luck ride inspired by the riverboat casinos. Iowa Farm represents a typical Iowa farm. The buildings on Main Street were modeled after various buildings across Iowa. Rathskeller was named after the founder of Rath Packing (who was German). The former Riverview section was based on the historical Des Moines amusement park. County Fair was a typical Iowa carnival/fair. Last Frontier represented the early days of Iowa.
Outside
Areas
Extinct Areas
A few areas have been replaced over the years:
Alpine Village - replaced by Bavaria (just renamed?)
Riverview - replaced by Dragon Island