Oktoberfest 2016
Jump to navigation
Jump to search
May 31, 2020 - Happy 45th Anniversary, Adventureland!
May 31, 1975 - Official grand opening. Congressman Neal Smith, Altoona Mayor Lloyd Sievers and Adventureland President John Krantz spoke at the opening ceremony. (But parts of the park opened in 1974.)
---
Nothing great was ever achieved without enthusiasm. - Ralph Waldo Emerson
DISCLAIMER
Information on this site is unofficial. It is compiled by fans of Adventureland amusement park in Altoona, Iowa (near Des Moines). There may be inaccuracies and omissions. For official Adventureland information, visit the official website.
See Newest Pages or all Recent Changes. | Join my Facebook Group. | About this site. | Blog | Contact me.
This page was last updated on 07/26/2018. Total Pages: 314. Total Files: 327.
---
Home / Special Events - Oktoberfest 2016
---
See also: Oktoberfest 2015, Oktoberfest 2016, Oktoberfest 2017 and Oktoberfest 2018.
---
Latest Updates
9/6/2016: It appears that almost all of the park will be open, except for Dragon Island and Outlaw Gulch. There are only a few rides (see below) that won't be operating.
9/15/2016: Check out the schedule grid and start planning your day.
9/16/2016: A few more VIP package details, and other minor updates.
9/20/2016: In a Facebook post, they referred to it as "Oktoberfest Food & Music Festival".
9/24/2016: After Adventureland closed for the final day of 2016, they posted the map and schedule for Oktoberfest.
Overview
Adventureland Iowa discounts, news and rumors: Oktoberfest details.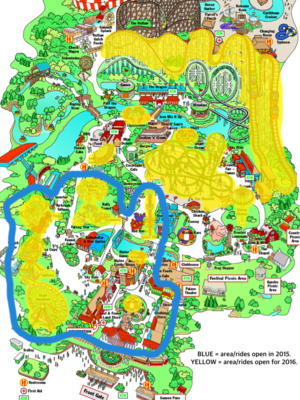 The 2nd annual Adventureland Oktoberfest was held on October 1, 2016, from 11am to 10pm, with rides operating until 9pm. It was sponsored by Star 102.5 and Sam Adams. 21+ and older only. Valid photo ID required for admission.
Most rides will be open (see rides operating below).
5 stages of musical entertainment.
13 acts throughout the day.
"Last Call" fireworks at 9:30pm.
$15 admission which includes a 16oz Sam Adam's Octoberfest beer.
Free event photo.
Free admission to Season Pass holders (no beer included).
Free parking.
Tickets available on the website starting August 22, or sold at the park on the day of the event.
$20 Belgium Feast
$200 VIP package available (see below).
$89 Adventureland Inn special: room, 2 passes and 2 "Recovery Brunch" buffets at Spectators Sports Bar and Grill for the morning of 10/2/16. (These were apparently sold out by August 19th.)
VIP Package
Admission to Oktoberfest
Oktoberfest refill mug
Souvenir Frozen refill Yard with Lanyard
Oktoberfest T-Shirt
Belgium Feast meal
VIP Wristband for exclusive area access
4 complimentary drink coupons for any drink venue throughout the park
Complimentary Sam Adam's Octoberfest, Adam's Cider and But Light on draft
Complimentary assorted import and domestic cans
Complimentary bottled water
Complimentary fountain drinks
Complimentary assorted snacks throughout the day - ranging from light to heavy food service
Reserved restrooms for the venue
Screens to view Iowa and ISU games
Bars
Iowa craft wines.
Over 70 beers on top.
Domestic and import cans.
Specialty cocktails:

Bloody Mary, Mimosa and Vodka bar
Spiked frozen Mix-It-Up
Ice Cream cocktails
Here are the bars:
Assorted Beer Trailers
Brave The Monster Shot Bar
Cookies & Cream
Coors Light Café
Craft Cocktails
Iowa Beer and Wine
Iowa Café Bloody Mary, Mimosa & Vodka Bar
Main Street Creamery Spiked Shakes & Floats
Oktoberfest Beer Trailer
Pumpkin & Cider Beer Trailer
Rathskeller Bier Garten
River City Abita & Tequila Bar
Sheriff Sam's Whiskey Bar
Shots Bar
Smoking Bar
Spiked Icee Mix It Up
Storm Chaser Bar
Summer's Last Stand Cheap Drinks
Contests
Angry apple bobbing - most apples bobbed from a barrel of Angry Orchard in 3 minutes.
Bavarian costume contest with $600 in prizes.
Stein hoisting - winner is who can hold a giant stein up the longest.
Entertainment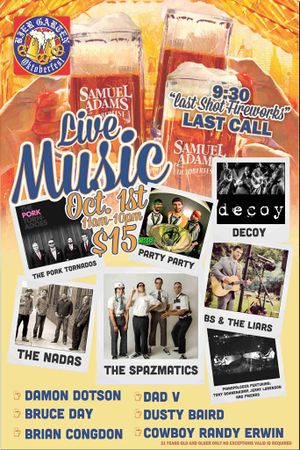 13 bands performing on 5 stages
Stages: Carousel, Rathskeller, Iowa Beer and Wine Shop (new stage currently under construction), Coors Light Cafe (probably the Coca-Cola Cafe?), Main Stage (maybe in front of the Giant Sky Wheel).
Street performers
A variety of street performers provided by Lumina Entertainment including jugglers, stilt walkers, hula-hoopers, and fire performances after dark.
Hypnotism Show
Ben Ulin performs at 2pm and 6pm in Sheriff Sam's Saloon.
Schedule
This grid should make it easier to see what is happening and when, so you can plan to see all 13 acts. Good luck! (And please let me know if you find any errors.) You can also view this as a Google calendar:
Or subscribe to this calendar on your phone.
2016 Oktoberfest Schedule
Time
Carousel
Coors Light Cafe
Iowa Beer & Wine
Main Stage
Rathskeller
Sheriff Sam's
Contests
11:00
Bruce Day
11:30
Dusty Baird
Brian Cogdon
12:00
Pianopalooza
12:30
1:00
1:30
Damon Dotson
2:00
Cowboy Randy
Decoy
BS & The Liars
2:30
3:00
3:30
Brian Condon
3:45 Angry Apple Bobbing
4:00
Hypnotism Show
4:30
The Nadas
5:00
Party Party
Pork Tornadoes
5:30
6:00
Hyptnotism Show
6:30
6:45: Stein Hoisting Finals
7:00
7:30
The Spazmatics
8:00
8:30
9:00
9:30
"Last Call" Fireworks
Food
Over 25 food vendors and 7 food trucks, plus limited-capacity Bavarian Beer Feast ($20 meal) available from noon to 6:30 p.m. There were a few items added to the map after the initial list went out, so some entries under "Stands" might be food trucks. I don't know yet.
Park Food
Alpine Foods
Cookies and Cream
Coors Light Cafe
Iowa Cafe Fried Chicken
Rathskeller Bier Garten
Spectators Sports Bar and Grill
Stella Artois Clubhouse Featuring the Belgium Beer Feast VIP Event
Food Trucks
515 Pi
Captain Roy's
Flip N' Chop
Karam's Mediterranean Grill
Miss Molly's
The Big Red Food Truck
The Hole Shebang
Specialty Food Stands
Akebono
Baru66
Benoit's Ice Cream
Bistro Montage
Blackcat Ice Cream
Blue Tomato
Brazilian Beef Charcoal Co.
Cheese Shop, The
Claxson's BBQ
Fireside Grill
Formaro's Stuffed
German Authentisch Samarui Scallop Fried Rice
Guru BBQ
Iowa Pork Chop Shop
Jack & Vinnies
Korean Chix BBQ
Macubana
Popping with Pride Kettle Korn
Spectator's Sports Bar & Grill
State Fair Guinea Grinders
Strudl Haus
Tacopacolypse
Tami's Tarts
Games
Pay to Play
Alpine Games
County Fair Games
Hamm's Beer Speed Pitch
Keg Bowling
Pumpkin Launcher
Roomba Beer Pong
Free to Play
To be announced.
Rides Operating
This means "most" of the park will be open. Since the event is 21+, none of the kiddie rides are needed. It looks like Dragon Island and beyond is off limits (so no Dragon, Sidewinder or Outlaw). It looks like we'll only miss the Inverter, Frantic Freeway bumper cars, Sky Ride, Underground and the two water-ish rides, Splash Over and Raging River. Not bad at all for $15!
Shops
Airbrush Avenue will be doing airbrush T-shirts, etc.
Hollywood Caricatures will be operating at two locations.
External Links
Video
None yet.