Main Street Creamery
Nothing great was ever achieved without enthusiasm. - Ralph Waldo Emerson
DISCLAIMER
Information on this site is unofficial. It is compiled by fans of Adventureland amusement park in Altoona, Iowa (near Des Moines). There may be inaccuracies and omissions. For official Adventureland information, visit the official website.
See Newest Pages or all Recent Changes. | Join my Facebook Group. | About this site. | Blog | Contact me.
This page was last updated on 06/3/2017. Total Pages: 307. Total Files: 318.
---
Home / Food and Drink - Main Street Creamery
---
Main Street Creamery is an ice cream shop on Main Street. It opened in XXXX. It offers bedewed coffee, Blue Bunnie ice cream in cones, shakes and sundaes.
One notable item is the $25 Ultimate Sundae...
Menu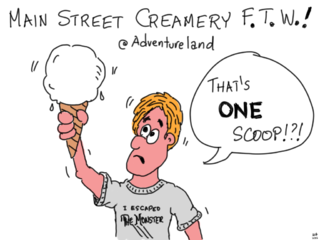 Drinks
Brewed Coffee
Food
Banana Splits
Floats
Ice Cream Cones
Mini Donuts
Sundaes
Waffle Cones
$25 Ultimate Sundae (see photo below!)
Trivia
None yet.
Photos
External Links
None yet.