Timeline
Jump to navigation
Jump to search
May 31, 2021 - Happy 46th Anniversary, Adventureland!
May 31, 1975 - Official grand opening. Congressman Neal Smith, Altoona Mayor Lloyd Sievers and Adventureland President John Krantz spoke at the opening ceremony. (But parts of the park opened in 1974.)
---
Nothing great was ever achieved without enthusiasm. - Ralph Waldo Emerson
DISCLAIMER
Information on this site is unofficial. It is compiled by fans of Adventureland amusement park in Altoona, Iowa (near Des Moines). There may be inaccuracies and omissions. For official Adventureland information, visit the official website.
See Newest Pages or all Recent Changes. | Join my Facebook Group. | About this site. | Blog | Contact me.
This page was last updated on 04/6/2021. Total Pages: 314. Total Files: 327.
---
---
A timeline of the park's history.
NOTE: Some information on this page comes from an old website called "Mike's Adventureland Page" by Mike Wilson. The text was archived in the Wayback Machine from 1998 version of the site. I will note the content that was lifted from Mike's site.
See also: Ticket Prices over the years.
THIS IS A WORK-IN-PROGRESS!
If you can help fill in any gaps, please contact me. Thanks! -Allen
Mike A Wilson Notes
Mike A Wilson:
I really don't know much about the park prior to 1990; that was the first year I went there. But since that time I have collected gate maps each year and they give a pretty good picture of what has changed each season. This information comes from studying those handouts.
1973
Mike A Wilson:
The park opened its doors in 1973. I've been told it started out as a private corporation, issued public stock for awhile, and has now been taken private again. Some of the attractions, like the carousel and a now-defunct haunted house are reputed to have come from a shut-down amusement park in Des Moines called Riverview Park. This information comes from a source that I consider reliable, but I haven't been able to confirm it yet.
Correction to the above: Adventureland established and construction begins. This is where the "Established 1973" date comes from on the worker name badges and merchandise. There was nothing to "open" until 1974.
1974
1975
Video
1976
1977
1978
1979
Adventureland buys Riverview Park with plans to keep it open and use it for corporate events.
County Fair area of the park opens.
1980
Video
1981
Items listed in the 1981 brochure:
1983
1985
Video
1986
1987
1988
1989
1990
Mike A Wilson:
The Dragon first began operating in 1990. This custom-designed $2.5 million ride is a double-looping steel coaster that climbs to a height of 100 feet and drops through two 70-foot loops at 5.5 G's before slowing through a double reverse spiral. The Dragon occupies a spot formerly held by a children's ride, the Convoy (moved to a new location), and reportedly, the haunted house walk-through.
Also in 1990, the "Chinese Acrobats of Tapei" became the featured show at the Palace Theater.
The brochure also lists the U.S. High Dive Team performing in the Aquatheatre, but I don't know if this was a new show that year or a continuation.
1991
Mike A Wilson:
The Giant Skywheel opens on the former site of Der Spritzer. This had been a small roller coaster with an Alpine boblsed theme. Like some of the other original rides, this one seemed to be only semi-permanent. It looked like it could be folded up and trucked away. It was a nice little ride. Its loss, along with some other changes have weakened the "European" theming in this part of the park.
The Skywheel itself cost about $1 million and rises to a height of nearly 100 feet. It is the largest open gondola wheel manufactured in America since George Ferris built his wheel for the Chicago Exposition (1898?). At night, the wheel glows with a computerized show light show using over 6000 bulbs.
"Celebrate Freedom", a Broadway-style musical, replaces the Chinese Acrobats as the act at the Palace Theater.
1992
Mike A Wilson: No major new rides opened in 1992. The only real change in the park was that "Adventures On Ice" began running in the Palace Theater in place of "Celebrate Freedom". "Adventures On Ice" would run for three years, ending after the 1994 season.
1993
Mike A Wilson:
The 1993 season marked Adventureland's 20th Anniversary. And there were lots of changes and updates. For starters, the entire 12-acre Outlaw Gulch area of the park was opened. This major expansion featured the Outlaw, a brand-new wooden coaster, the Wrangler, which is a traditional "Scrambler"-type ride, and the Chuck Wagon, a ferris wheel for small children where they ride in covered gondolas shaped like Conestoga wagons. A new street show also begins running in Outlaw gulch and features a comedy-western skit five times a day starting at "High Noon".
Every Thursday during June, July, and August, the "Family Fun Zone", a locally-produced TV game show, tapes episodes in the park in the Aquatheatre. The program was hosted by Adventureland magician Ben Ulin, who was also the show's co-creator. Guests could either watch the show being produced or be a part of the studio audience.
Tickets: Adult $17.50, Children $16.00, Seniors $13.50, Second Day $8.75.
1993 brochure read "20 YEASR OF FUN / COME CELEBRATE WITH US!"
Chuck Wagon opens.
Family Fun Zone TV game show hosted by Ben Ulin records on Thursdays in June, July and August at the Aquatheatre.
April 24, 1993 - Outlaw opens.
Outlaw Gulch area opens.
Puff Dragons relocates.
Wrangler opens.
Western Comedy Show opens. (What was the real name? I saw it somewhere.)
Ice show in Palace Theater was back.
1994
Mike A Wilson:
After the major changes in 1993, not much happened in the park in 1994. All of the same rides and shows are listed on the gate map, including the "Family Fun Zone" taping and "Adventures On Ice".
1995
Mike A Wilson:
This was also a quiet year, the only major change was the closing of "Adventures On Ice" at the Palace Theater and its replacement by the "Chinese National Acrobats". It's unclear if this is the same troupe that performed at the park in 1990 as the "Chinese Acrobats of Tapei", but the picture on the brochure is the same and the wording of the descriptions is almost identical.
The "Family Fun Zone" continued as a live show for another season.
1996
Mike A Wilson:
This season saw the opening of the Underground, the first major new ride since 1993. It is a relatively mild indoor dark coaster that takes riders past several animatronic scenes of what was supposedly a maze of coal shafts turned into an outlaw hideout. To my knowledge, this is the only ride in the park that has had any kind of a "back story" written for it. The tale is related by an old miner figure as you wait in the interior line to board the ride.
The Underground is built on the site of the former "Aquatheatre". I'm told that original diving pool is still in place under the ride.
Also in 1996, "Unbelievable Magic and Mysteries" began running in the Palace Theatre. Since this show was performed by Ben Ulin, who normally works in Sheriff Sam's Saloon, the Saloon got a new show called the "Rootin' Tootin' Wild West Review".
1997
Mike A Wilson:
This year saw the introduction of two major new rides and a completely new show. The two rides were the Mixer and the G-Force. The Mixer is only the 4th ride of its kind in the country. Riders are secured in open cars and twirled around every rotation axis simultaneously. It occupies a spot between the Galleon and the Tea Cups. The G-Force is unque in the U.S. It is similar to a "Scrambler"-type ride, but much faster. It sits in a formerly empty area near the Dodge 'Em Cars.
The new show was the "Royal Hanneford Circus". It claims to be one of the oldest and most renowned circuses in the world and to have toured the U.S. and Europe for decades. It stayed the entire summer in a big top erected near the Southwest edge of the park beyond Outlaw Gulch doing three shows a day.
The Palace Theater did not have a show running in 1997, but Ben Ulin returned to Sheriff Sam's Saloon with his "Magic and Comedy Review".
1998
Mike A Wilson:
Despite the fact that 1998 marks Adventureland's 25th year, there were few changes to the park. The Corner Arcade was replaced by "State Fair Mini-Donuts", The Shooting Gallery was removed to make way for a remote controlled car arcade, and a new Shooting Gallery was installed in Outlaw Gulch.
The Royal Hanneford Circus returned for a second year of shows.
Once again, the Palace Theater had no show this season and the Outlaw Gulch comedy show is no longer running.
Sinclair now sponsors the "Convoy" ride and a 10-foot brontosaurus is added nearby for the kids to climb on.
Parking $2, General Admission $19.50, Kids 4-9 $18.00, Kids under 3 Free, Senior Citizens $15.50.
25th anniversary of the park (but not the anniversary of the park opening to guests).
Mini Donuts opens in River City, replacing the Corner Arcade.
Speedway RC cars opens, replacing the original Shooting Gallery.
Outlaw Gulch Saloon becomes a food counter and begins offering food.
Sinclair becomes the new sponsor of Convoy. A 10-feet brontosaurus statue is installed nearby.
www.adventurelandpark.com registered, but it wasn't owned by the park. Somewhere I have e-mail from whoever had it; if I recall, they were going to be making the site for the park, but it didn't get worked out.
1999
www.adventureland-usa.com website opens (?).
Space Shot opens.
2000
2001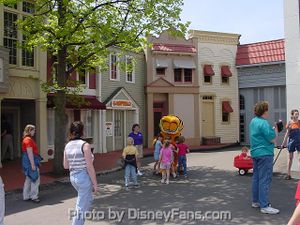 2002
Tickets: Regular $26/$39, Children (4-9) $22/$35, Senior Citizens $22/$35, Season Pass $55.
Adventureland Inn expands.
Saw Mill Splash opens, replacing the Wrangler.
Season Passes introduced.
Public School used to process Season Passes.
Re-Wired show.
Rock the House show.
www.adventurelandpark.com now becomes the official website (www.adventureland-usa.com still works). New website design.
2003
2004
Tickets: Regular $27/$40.50, Children (4-9) $23/$36.50, Senior Citizens $23/$36.50, Season Pass $80.
Sidewinder opens.
May 1 - TV commercial footage of Sidewinder recorded.
Same three shows on website archive as 2003...???
2005
Minor Changes
2006
Minor Changes
2007
Minor Changes
Animaland stuffed animals added.
ATM installed outside front gate.
Cookies BBQ sauce.
Drink machines appear near some restrooms.
Espresso-Etc! coffees added to Mini Donuts and Iowa Cafe.
Iowa Farm windmill uncovered from behind all the vines.
Ticket Booth courtyard remodeled to include "A" in concrete.
Jack the Giraffe tree carving gets spots (sometime between 4/28 and 6/02).
T-Shirts: I (heart) Corn Dogs and I (heart) Funnel Cakes, 10% off if you bring your food receipt.
Fence around Infant Ocean rebuilt.
2008
Minor Changes
Fredrichs Coffee added to park.
Giant Sky Wheel hub logo changed from Fuji to Adventureland.
Scanners for Season Passes being used at the Front Gate.
Video
2009
Tickets: Regular $31, Children (4-9) $27, Senior Citizens $27, Season Pass $85.
Boys Rock musical show performed on the streets in Bavaria.
Hy-Striker installed. 1 play for $3, 3 plays for $5.
ICEE Mix It Up opens.
Post Office becomes day glow shop. (? Was it still the Post Office in 2008 ?)
Summer Breeze show at the Chapel.
Website redone.
Minor Changes
2010
Minor Changes
Animated buffalo head above Shooting Gallery gone (destroyed in the fire). Replaced by skull.
2011
2012
Are these correct? Did they both re-open the season after the fire?
2013
2014
2015
2016
TIckets:
April 30, 2016 - Opening day was scheduled, but due to weather, the park was closed and the first day of operation was May 1.
July 11-16, 2016 - Monster was closed for preventative maintenance. Some replacement parts had to be machined and installed for the lift hill to prevent premature wear.
July 19, 2016 - Park closed early due to weather.
Cookies and Cream opens, replacing some Football toss game.
Golden Nugget Shooting Gallery opens, replacing the Golden Nugget Arcade. It was the old Outlaw Gulch Shooting Gallery, refurbished and upgraded.
Live Local Solo Artists performance area opens at the Iowa Beer and Wine Shop.
Monster opens on June 4, replacing the River Rapids log ride.
Outlaw Gulch Saloon relocates next door, replacing the Outlaw Gulch Shooting Gallery.
August 4, 2106 - Oktoberfest 2016 officially announced on the Adventureland Facebook page.
August 21, 2016 - Adventureland's Facebook page hits 100,000 Likes.
Minor Changes
2017
Tickets:
Park scheduled to open April 29-30, 2017, but severe rain and low temperatures caused the opening to be postponed until May 6, 2017.
Bernie appears with a new look.
Bernie's Klement's Cart hot dog stand opens.
Corona Cantina opens, replacing Abita Bar, with expanded offering of frozen drinks, including non-alcoholic variations.
Fun Foods gets a new cotton candy room with a window facing the street so guests can watch cotton candy being made.
Gyros expands inside and out with an order window and serving window. Baklava, Greek Salads and other items added. Extra seating added in front.
ICEE Mix It Up offers spiked ICEEs, like they did during Oktoberfest.
Iowa Beer and Wine Shop gets a new barn-shaped tent for outside seating. Stage to be added.
Leinenkugel Tiki Bar opens in Adventure Bay.
New website launched. (I believe this is the third incarnation of the Adventureland website.)
Minor Changes
2018
Tickets: Regular $45/$70, Children (4-9) $40/$65, Senior Citizens $40/$65, Season Pass $140.
Park opened on Map 5, 2018.
Doc and Leone's Diner opens on Main Street, replacing Iowa Cafe.
Iowa Beer and Wine Shop expands into a full bar with more beers, cocktails and frozen drinks.
Inverter is removed.
A new area, Bernie's Barnyard, opens. It replaces Country Picnic Grounds, and features two new children rides: Junior Jockeys and Shakin' Bacon.
Airbrush Worx opens, replacing Airbrush Avenue.
The Gift Gallery opens.
Fire Station becomes Main Street Marketplace. Stroller/wheelchair rentals move to the former Adventureland Store location.
Minor Changes
New food offerings throughout the park, including: Little Smokies Cup, Fiesta Street Corn, Siracha Chicken in a Waffle Cup, Chicken and Waffle Sliders, Outlaw Burger, BBQ Sundae, Oreo Churros, plus a whole new menu at the new diner.
Corner Store relocates.
Sheriff Sam's Saloon gets new paint, and a new inner wall and flooring. Four horse hitching posts are added out front. Outside speakers now announce that that magic show is about to begin.
Colorful flags added throughout the park.
Tea Cups and Rathskeller get new signs.
New fencing around Puff Dragons and Saw Mill Splash. Fence removed from lawn around the Carousel.
Red Baron gets a new red paint job, and the Yacht Club island is repainted.
Tickets: Regular $XX/$XX, Children (4-9) $XX/$XX, Senior Citizens $XX/$XX, Season Pass $XXX.
Park opened on XXX.
Phoenix coaster opens.
Tickets: Regular $XX/$XX, Children (4-9) $XX/$XX, Senior Citizens $XX/$XX, Season Pass $XXX.
Park opened on XXX.
Opening delayed due to the Covid-19 coronavirus pandemic.
Dragon disassembled and teaser announcement for a replacement posted.
Announced opening date for Dragon replacement, Dragon Slayer.
Four levels of season passes introduced (bronze, silver, gold and platinum). The bronze level is good just for Mon-Thu admission and does not include parking. The silver pass adds free parking and admission to a concert series. Gold is similar to the previous year passes but includes soda and popcorn refill containers and new discounts. Platinum adds "park hospitality suite" admission, priority parking upgrade, one night stay at the Inn, and an Inn Splash Pass.
Tickets: Regular $50/$80, Children (4-9) $45/$75, Senior Citizens $45/$75, Season Pass $110/$140/$175/$290.
Park opened on XXX.
External Links