Skee-Ball
Nothing great was ever achieved without enthusiasm. - Ralph Waldo Emerson
DISCLAIMER
Information on this site is unofficial. It is compiled by fans of Adventureland amusement park in Altoona, Iowa (near Des Moines). There may be inaccuracies and omissions. For official Adventureland information, visit the official website.
See Newest Pages or all Recent Changes. | Join my Facebook Group. | About this site. | Blog | Contact me.
This page was last updated on 08/5/2016. Total Pages: 312. Total Files: 318.
---
---
Skee-Ball is a ball rolling game located in County Fair. It opened in XXXX.
Prizes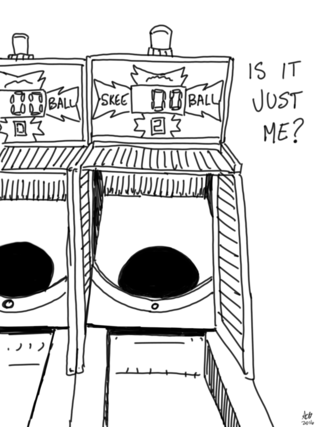 Stuffed Sea Turtles (red, green, blue and yellow; small, medium and large)
Trivia
There used to be more...
Before the Main Street fire of 2010, there was another row of Skee-Ball machines in Bavaria. A few more could be found in the Golden Nugget Arcade.
Photos
External Links
None yet.